Woman secretly recorded murder bid accused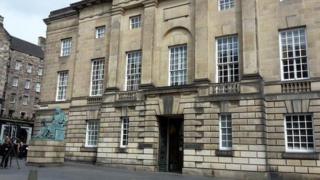 A woman told a court that she used her mobile phone to secretly record a man accused of attempting to murder her 11-month-old son.
The woman told jurors that she recorded Ryan Devaney after her baby started acquiring a series of unexplained injuries.
The High Court in Edinburgh heard that she had allowed Mr Devaney to look after her child at a house in Dundee.
Mr Devaney, 28, denies a charge of attempted murder in 2015.
The woman told the court that she had seen her son with black eyes, a carpet burn and red marks on his face.
She said that on other occasions the child had fallen off a couch and been sick.
The woman told the court that before going on a shopping trip, she decided to make a recording of what was happening in her home when she wasn't there.
Secret recording
She told jurors: "Alarm bells were ringing. I didn't ever think Ryan would hit him.
"But I had a feeling that something wasn't right.
"I put the phone on record and hid it under the bed."
The recording was played to jurors, who heard the sound of a Mickey Mouse cartoon being played on a television.
The jurors could also hear the sound of a baby crying.
The woman said that when she returned from her shopping trip, she listened to the tape and decided to phone the police.
The woman said: "I couldn't listen to all of it. I could only listen to some of it."
Denies charges
Mr Devaney, 28, denies biting the child, putting a blanket over his head, and pushing him on the body, causing the child to fall to the ground.
He is also accused of shaking and inflicting blunt force trauma on the child.
Mr Devaney is further accused of assaulting a woman, breaching a court order not to contact her, and behaving in a threatening manner towards the woman.
Other charges allege that he assaulted a man in Dundee, and was in possession of extreme pornography.
He denies all the charges and the trial before judge Lord Woolman continues.