'Out of control' pensioners fined for hotel rampage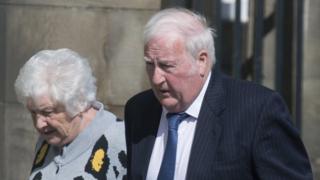 Staff and guests were forced to flee after two "out of control" pensioners rampaged through a Highland Perthshire resort hotel, a court heard.
Robert Fergus, 72, ran naked with a pair of scissors in the public reception of the MacDonald Loch Rannoch Hotel and smashed a glass pane.
His wife Ruth, 69, threatened to shoot a staff member after "reacting badly" to the alcohol she consumed earlier.
The couple were fined £4,100 at Perth Sheriff Court.
Mr Fergus, from Troon, was also ordered to pay the hotel £800 compensation to cover the cost of the damage from the incident on 4 February.
He had admitted behaving in a threatening and abusive manner towards four staff members, wilfully destroying property, and drink driving.
Mrs Fergus admitted causing fear or alarm at the hotel by threatening guests and staff with violence.
The court heard how Mr Fergus used the scissors to cut communications cables at the hotel reception and was eventually caught drunk at the wheel of his BMW.
No clothes on
Fiscal Depute Michael Sweeney said a guest was woken by banging on his door at 01:45 and saw Mrs Fergus, who became abusive, in the hallway.
After the guest informed reception, Mr Fergus appeared with no clothes on and began shouting abuse at the staff and guests in the foyer.
Mr Sweeney said: "Both accused were acting as if they were out of control.
"He was observed to have a pair of scissors.
"Mrs Fergus said: 'I'm going to get a gun and shoot you,' at (staff member) Miss Titkova."
"On seeing the scissors, Miss Titkova shouted at the other staff and guests to run.
"They saw Mr Fergus pick up a sign and smash a glass pane in the door with it."
'Reacted disproportionately'
Mr Fergus then ran through the foyer telling witnesses he would "slit" and "kill" them.
Staff and guests ran from the hotel towards the village of Kinloch Rannoch.
Solicitor Ewan Cameron, for Mr Fergus, said: "He consumed much more alcohol than was sensible.
"He retired to bed but was roused by his wife who said she had been on the receiving end of hostility from hotel staff.
"He reacted disproportionately by going to reception to confront them."
Solicitor Pauline Cullerton, for Mrs Fergus, said her client reacted badly to the alcohol she drank because she had eaten little during the day.
Sheriff Gillian Wade told Mr Fergus: "I don't think I need to tell you it's a very sorry state of affairs.
"I have no doubt you will regret it for the rest of your life."