Kilted yoga star's studio targeted by thieves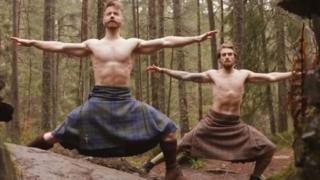 Kilted yoga star Finlay Wilson said he "will not be stopped" after his Dundee studio was broken into.
Thieves stole about £200 and caused hundreds of pounds worth of damage during the break-in at the Heart Space studio.
Mr Wilson's video on BBC Scotland's The Social with Tristan Cameron-Harper has been viewed more than 50 million times.
The break-in took place between 21:00 on Tuesday and 06:00 on Wednesday.
It is the third time the Scott Street studio has been targeted by thieves.
Mr Wilson said customers and local residents were "disgusted" at the theft.
He said: "So many people have said, why break into a yoga studio?
"This kind of thing will not stop us. When stuff comes my way I usually find some way of turning it around."
The thieves broke in by cutting through metal shielding on a rear window.
Mr Wilson said: "It's the first time people have gone through the window.
"The glass is 8mm-thick security glass plus a metal grate on it.
"They went to some lengths to get through it."
The studio operates as a charity and works with community groups, adults with disabilities and injuries, and children with support needs.
Mr Wilson is taking part in a charity event in September to raise funds for the studio.
He said: "The money from the Kilt Walk will go towards our next project, which is to raise £36,000 to purchase the building that we use.
"Once we purchase the building, our monthly outgoing costs go down by two thirds, so we'll be able to divert those resources to other projects."