Abduction victim jumped from car to escape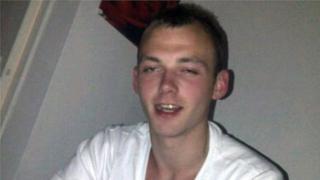 A man who abducted a Good Samaritan, forcing him to jump from a moving car to escape, has been remanded in custody.
A court heard Garry Kelly forced James Horne at the point of a screwdriver to drive to a forest track.
Mr Horne had earlier bought cigarettes and alcohol for Kelly from a shop after he told him he did not have ID.
A sheriff told Kelly, 26, to expect a "lengthy custodial sentence" when he returns to court on 29 August.
Stirling Sheriff Court was told Kelly approached his victim, who he had never met before, outside a shop in Larbert.
Mr Horne agreed to buy the items, but when he returned, Kelly told him he had no cash and offered Mr Horne £20 to drive him to Alva, Clackmannanshire, to get money.
During the journey, Kelly told Mr Horne to stop, before pulling out a screwdriver he had found in the passenger door compartment.
He then told Mr Horne: "Give me all your money or I'll stab you in the eye".
'Extremely distressed'
Kelly then told Mr Horne to drive to a cash machine while continuing to threaten him.
When no money was available from the machine, Kelly ordered Mr Horne to hand over his phone and drive to a pawn shop in Stirling.
After changing his mind, he then told Mr Horne to drive around while he directed.
Prosecutor Sarah Lumsden said: "The drive led to a secluded woodland park, and as Mr Horne turned up the track he was incredibly frightened and thought that Kelly would kill him.
"He did a U-turn, took off his seat belt, accelerated to about 40mph, opened his door, and jumped out of the moving car, rolling as he hit the ground."
Miss Lumsden said the car ended up in a ditch and Mr Horne saw two dog walkers, who directed him to a house where he knocked on the door.
The fiscal said: "The householder found him extremely distressed, took him in, and phoned the police."
Kelly was later found by police hiding behind a wall.
He admitted charges of assault, robbery, and abduction. committed on 13 April.