Dundee 2023 culture prize bid seeks big ideas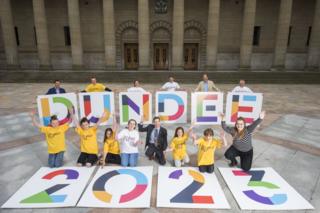 Dundee's European Capital of Culture 2023 bid team are encouraging the public to contribute ideas for the city's programme proposal.
The call for creative contributions marks 100 days until the bid proposal deadline on 27 October.
A new website has also been launched to document Dundee's individual connections to European communities.
The UK competitors are Dundee, Leeds, Belfast-Derry, Truro-Cornwall, Nottingham and Milton Keynes.
The European Capital of Culture competition is an annual designation awarded to two European cities on a rolling programme.
Both Hungary and the UK will host a Capital of Culture in 2023.
About 150 delegates attended a conference in Dundee in March to discuss the 2023 bid.
'Cultural Olympics'
Dundee lost out to Hull in 2013 to become this year's UK City of Culture.
Dundee 2023 chairman Stewart Murdoch said a successful bid could bring an estimated £128m to the local economy and create 1,600 new jobs.
He said: "This is a once-in-a-generation opportunity, the equivalent of the cultural Olympics.
"It's a chance for Dundee to host a year of major international events and showcase Scotland's creative and cultural talent by winning a title that will never be available to the UK again.
"This bid underlines the scale of the Dundee's ambition which the city has shown in a series of bold projects for over two decades - but this would take us on to a whole new level."
Culture Secretary Fiona Hyslop, said: "This bid is an exciting opportunity to strengthen Scotland's cultural ties with Europe and celebrate our diverse cultural heritage.
"With 100 days to go, I encourage Dundonians, Scots and people from across the world to contribute their ideas for Dundee as European Capital of Culture."