Thief escapes with stolen goods in wheelie bin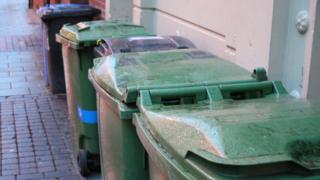 A thief has targeted a Dundee sheltered housing complex posing as a workman before making off with a wheelie bin filled with stolen goods.
Officers said the man forced entry to the complex in Martingale Gardens at about 05:15 on Monday before removing items from communal areas.
He also took a white workman's hat, which he then wore to make himself look like a legitimate worker.
Police said he left the area with the items in one or two wheelie bins.
The man is believed to left via Victoria Road following the theft.
The suspect was described as being in his 20s, of mixed-race, and wore a pale green hooded top.
A Police Scotland spokesman said: "Although this happened quite early in the day, a number of persons are still in Victoria Road at this time of day, and if he did indeed leave in this direction he would have been seen by pedestrians and motorists."