Memorial service for former SNP leader Gordon Wilson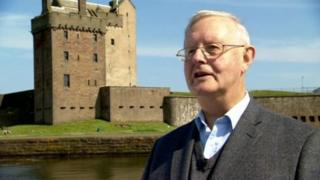 A memorial service for former SNP leader Gordon Wilson has taken place in Dundee.
First Minister Nicola Sturgeon and her predecessor Alex Salmond were among the mourners attending the service at St Peter's Free Church.
Mr Wilson, who was SNP leader from 1979 to 1990, died in Roxburghe House hospice in Dundee on 25 June aged 79 following a short illness.
His funeral was held at Dundee Crematorium.
Deputy First Minister John Swinney delivered a eulogy at the memorial service in which he remembered his colleague as a man who "started out as a rebel and he remained a rebel".
He told mourners: "Without a shadow of a doubt, he left the SNP in a stronger position than when he assumed its leadership in 1979.
"The conclusion is clear. Whether it was the 1960s, the 1970s, or the 1980s, whether it was the way he gave the SNP firm direction, or the way he cradled the party in the palm of is hand, Gordon Wilson was utterly pivotal to the survival and the success of the SNP."
'Love for the city'
Mr Swinney spoke of Mr Wilson's love for the city where he served as MP for Dundee East from 1974 to 1987.
Mr Swinney said: "He loved bringing justice to the homes and workplaces of those he had the privilege to represent.
"The existence today of a Scottish Parliament, the existence of an SNP government and the existence of a more self-confident Scotland, is due to the foundations laid by Gordon Wilson."
The service also included a prayer by Bishop Vincent Logan.
Mr Wilson is survived by his wife Edith, his daughters Margaret and Katie, and five grandchildren.