Oesophageal cancer drug test developed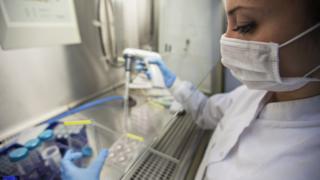 A test has been developed to determine the effectiveness of a drug for one of the most treatment-resistant cancers.
Research, led by a team at the University of Dundee, has helped reveal which oesophageal cancer patients will benefit from the drug gefitinib.
It follows a decade of work aimed at improving the quality of life for patients affected by the disease.
However, despite the research, the team found that the vast majority of patients saw no benefit from the drug.
A trial was launched in 2007 involving 450 patients in 50 hospitals across the UK.
The research team, which also included scientists from the University of Aberdeen, analysed biopsies of patient tumours to establish why some responded well to treatment and others did not.
'Not curative'
As a result, they have now developed a diagnostic test - the EGFR FISH test - which identifies those who will and will not benefit from the drug.
Prof Russell Petty, of the University of Dundee School of Medicine, who led the research, said: "After starting the trial, we quickly observed very dramatic responses in some patients with improvement of their symptoms and, while not curative, the responses were durable, lasting many months, for example up to two years in some cases.
"These responses to gefitinib were transformative to patients in this situation, moving them from being severely ill, with rapidly deteriorating health and within a few months of the end of their life, to a much improved condition where we had control of their cancer's growth and symptoms and they could return to 'normal life' with their families."
An estimated 455,000 people worldwide are diagnosed annually with oesophageal cancer.
While significant advances in treatment for other cancers have led to improved survival rates - about 50% of patients with breast cancer and 60% of those with colon cancer now recover - the rate for oesophageal cancer remains at about 15%.
Kate Cunningham, campaign director for oesophageal cancer charity OCHRE, said: "With so few treatment options and such poor outcomes, oesophageal cancer remains one of the less survivable cancers and that is increasingly unacceptable.
"Prof Petty and his team have devoted years to this work, which will improve the lives and treatment experiences of some patients, and that is very positive news.
"We need to see more support of work like this to ensure that people diagnosed with oesophageal cancer begin to enjoy the same range of treatment options and the same outcomes as those with other cancers where there is wider support and research is being better funded."