Osprey Lassie makes it three out of three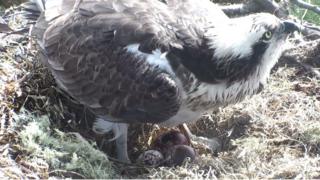 A female osprey nicknamed Lassie has laid her third egg of the season at the Scottish Wildlife Trust's Loch of the Lowes nature reserve.
It is the third year in a row the bird of prey, officially known as LF15 has laid three eggs at the Dunkeld estate with her partner LM12.
Viewers from around the world have been watching the pair's progress on the Loch of the Lowes live webcam.
Lassie arrived back in Scotland on 23 March, six days after her mate.
Ospreys typically lay two to three eggs which are incubated for an average of 37 days,
Charlotte Fleming, Perthshire ranger for the Scottish Wildlife Trust said: "We're delighted that LF15 has laid another hat-trick of eggs in her third season at Loch of the Lowes. "