Oor Wullie Bucket Trail charity's shop targeted by thieves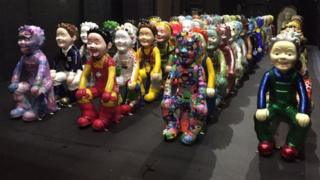 The charity behind the Oor Wullie Bucket Trail said it was "saddened" after its Dundee shop was broken into at the weekend.
Thieves stole an engraved iPad and two charity boxes containing a small sum of money from the Archie Foundation's unit in the Wellgate Centre.
The break-in took place between 16:00 on Friday and 15:00 on Sunday.
The shop will be closed until Tuesday while staff clean up damage caused by the incident.
A statement on the charity's website said: "We're saddened that our shop in Dundee has been broken into over the weekend.
"It's deeply upsetting for our staff and volunteers."
An auction of 70 individually designed Oor Wullie sculptures last September raised £883,000 for the charity's Tayside Children's Hospital appeal.
The designs were part of Oor Wullie's Bucket Trail, which saw 55 of the sculptures displayed across Dundee, with the remainder touring Scotland.