New layout planned for £21m sports hub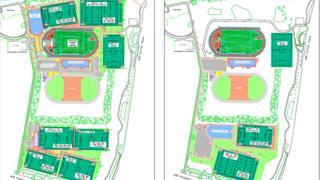 A new layout for a £21m regional sport centre will be considered after Dundee FC withdrew its interest in using it as a training facility.
The club pulled out of the new Regional Performance Centre for Sport at Dundee's Caird Park in December.
Councillors will be told that has allowed an opportunity to address planning issues and objectors' concerns.
The new layout will be included in an amended planning application.
The new application is expected to be submitted to Dundee City Council's development management committee in the summer.
An assessment has been carried out on relocating the performance centre facilities to the south end of the Caird Park site, where the Dundee FC training ground was to have been.
The committee will also hear that further public consultation will be undertaken on the amended proposal.
Sports including badminton, basketball, netball, rugby and volleyball will be provided for in the new building.
Objectors to the centre have highlighted concerns over protected species in the area.
The council will seek further direction from the Scottish government as to whether the amended proposal would require an Environmental Impact Assessment.
Dundee City Council leader Ken Guild said: "The football club withdrawing its interest has given us an opportunity to take another look at the site and see if there is another way to lay out the facilities that we want to have there in a more efficient and effective way.
"It will also offer an opportunity to locate the new facilities further away from potentially sensitive areas within the park."