Musical roots explored in Scotland's Sounds project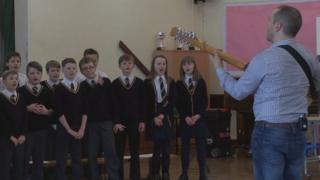 Scottish songs will be performed in Tayside and Fife classrooms as part of a project connecting children with the country's musical heritage.
Connecting Scotland's Sounds uses archive recordings of traditional songs on older sound equipment, including reel-to-reel recorders.
The first schools to take part in the programme are Dundee's Craigiebarns and Forthill primary schools.
The project is led by the National Library of Scotland.
Each Finding Our Voices: Exploring Local Songs workshop series will conclude with a public performance in each school.
The workshops will be run by Local Voices, an organisation set up to help communities across Scotland identify, collect and engage with their local heritage.
The workshops blend archive musical recordings with cultural and social history.
Local Voice's Chris Wright said: "It's a fundamental part of how we understand ourselves.
"Particularly because the kinds of stories that the songs often communicate are the kind of things that don't often enter into books, so it's not part of official learning.
"And the great things about songs is they act as vehicle for the understanding and almost the re-performing of these memories."
Connecting Scotland's Sounds is funded by the Esmee Fairbairn Foundation with the aim of preserving and sharing Scotland's audio heritage.
Mr Wright said the workshops explore themes that local songs might cover, including place names, local landmarks and trades.
He said: "Songs are then explored, listened to and discussed, with the accompanying visual resources of maps, broadsheet images, local landmarks, before eventually being learned as a group."