Stray cat hoarder evicted from council house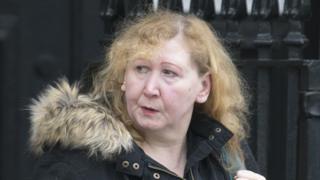 A council tenant who "hoarded" up to 18 stray cats in her home will be evicted after leaving a local authority with a £33,000 repair bill.
Perth and Kinross Council were granted permission to evict Elspeth McVie from her home of more than 50 years.
A sheriff said the state of the property meant it posed a danger to Ms McVie and her neighbours.
A court heard that nine of the cats had to be put down because they were in such a poor condition.
A housing officer inspecting the home previously told Perth Sheriff Court was it "the worst thing she had ever seen."
Sheriff William Wood ruled that the 59-year-old had allowed the cats and kittens to run wild around the property in Perth.
Sheriff Wood said: "I have no difficulty in finding she was living in a significant degree of squalor.
"The floors throughout the property were grimy, sticky, spongy and covered in cat urine, faeces and hair."
'Completely uninhabitable'
The sheriff said the property in general was "malodorous."
He said: "The floorboards in the kitchen were rotted through. Water was provided to the upstairs by means of a garden hose.
"The property was completely uninhabitable, such was the squalor.
"The cost of bringing the property back up to a habitable standard was some £33,000."
Sheriff Wood said the property posed "a significant fire hazard" and that Ms McVie was a "pathological hoarder" who had lured numerous stray cats in to her home.
Ms McVie previously told the court: "I got confused and didn't want anything to happen to the cats.
"We were like a little family. I have a tendency with animals to let my heart rule my head.
"I got it into my head that if the council came in and found them they would get them killed or something."