Abertay University academic elected to Royal Society of Arts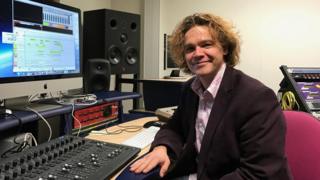 An Abertay University academic has been elected as a Fellow of the Royal Society of Arts.
Dr Kenny McAlpine has been recognised for his work, research and outreach projects in computer games music.
The society, which aims to "enrich society through ideas and action", was founded in 1754 by William Shipley.
Current members include worldwide web inventor Sir Tim Berners-Lee and broadcaster Adam Hart-Davis. Historical members include Karl Marx.
Peter Ustinov, Benjamin Franklin and Charles Dickens were also members.
'A little daunting'
Dr McAlpine said: "It's a terrific honour to become a small part of such a prestigious and historical institution, but it's also more than a little daunting.
"The RSA roll call includes some very notable figures and some truly world-changing achievements."
Dr McAlpine will publish a new book, Bits n Pieces: A History of Chip Tunes, this year.
He said: "I've always been very conscious of the fact video games have only very recently been accepted as a legitimate form of cultural expression and a legitimate industry.
"I'm also very conscious that although that's true, it applies even further to video game music, which still isn't really seen as proper medium in the eyes of musicologists and cultural theorists."