Law firm worker admits £56,000 fraud and embezzlement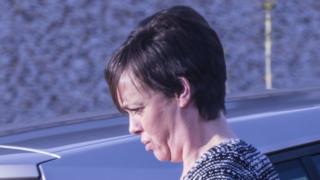 A law firm paralegal embezzled more than £40,000 from the estate of her ex-husband's great aunt, a court was told.
Alison Jackson also failed to tell a pension company of the woman's death and transferred £12,641 of payments into her own account.
The fraud was uncovered when solicitors Thorntons audited Jackson's clients' accounts after her resignation.
Jackson, 44, of Arbroath, admitted two charges of embezzlement and one of fraud.
The court was told Jackson was granted power of attorney and put in charge of Lillian Grant's finances in 2006.
Payday loan debts
When Mrs Grant died in 2012, Jackson gave her ex-husband £1,500 and told him that was all that was left in the estate.
However, Jackson was using Mrs Grant's money to pay off bills for payday loan debts, store cards and credit cards.
Depute fiscal Eilidh Robertson told the court that Jackson embezzled £3,073 from Thorntons, £40,403 from Mrs Grant's estate and £12,641 from the Cadbury's pension scheme.
She said: "Mrs Grant passed away at the age of 98 and had been living in a care home since 2010 and was suffering from dementia.
"The Jackson family had been happy for the accused to have power of attorney given the expertise she had gained through her employment.
"From 24 October 2010 onwards, the accused gradually began to transfer money from Mrs Grant's bank account to her own personal account."
Full audit
Miss Robertson told the court that the money had never been repaid.
She said that the monthly pension from Cadbury had been paid for almost three years until police told the company of Mrs Grant's death.
Miss Robertson said: "She continued her employment at Thorntons whilst embezzling from Mrs Grant.
"Various complaints were made about her work and she went on sick leave in March 2014 before resigning and a full audit was undertaken."
The audit showed that one of her executry accounts had two withdrawals, both covering the cost of a funeral.
Miss Robertson said: "Thinking this strange, the tax accountant working on it found that the money had been paid for Mrs Grant's funeral.
"She had accounted for the loss in value to the estate by telling its beneficiaries that the value of shares owned by the estate was lower than it in fact was.
"The firm reimbursed the family."
Jackson will be sentenced at Dundee Sheriff Court on 26 January.