Montrose murder trial jury sent home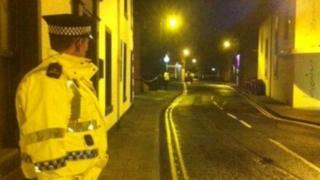 The jury in the trial of a couple accused of murdering and dismembering a Montrose mother-of-three have been sent home for the day.
The jury retired to consider their verdicts on Steven Jackson and Michelle Higgins on Wednesday afternoon.
The couple are accused of killing Kimberley MacKenzie in the Angus town in October last year.
Judge Lady Rae told the jury of five women and nine men to take as long as they needed to reach their verdicts.
The jurors will resume their deliberations on Thursday.
Lady Rae told them to put aside any feelings of sympathy and look at the evidence "dispassionately and impartially."
She said: "You are the judges. You must return a verdict without fear or favour."
Mr Jackson, and Ms Higgins, are accused of murdering Ms MacKenzie by repeatedly striking her on the head, neck and body with a hammer or similar instrument at 40a Market Street, Montrose, on 27 October last year.
They are also accused of attempting to defeat the ends of justice by dismembering her body using a saw, knives and a screwdriver and wrapping parts of her body in bin liners and bags and hiding them in bins at 40 Market Street, 73 William Phillips Drive and two other sites in Montrose between 27 October and 4 November 2015.
Both deny the charges against them.