Accused Michelle Higgins 'had keys to Montrose murder flat'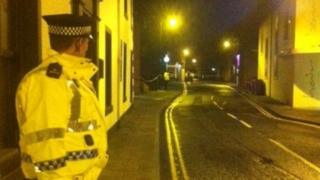 A murder accused had keys to a flat where the dismembered remains of a mother-of-three were found, a court has heard.
Michelle Higgins was said to have been given the keys to the house in Montrose after she told her new boyfriend she was leaving her partner Steven Jackson.
Ms Higgins, 29, and Mr Jackson, 40, are accused of murdering and dismembering Kimberley MacKenzie on 27 October, 2016.
They deny the charges against them.
David Melville, 36, told the High Court in Glasgow that he was in a relationship with Ms Higgins after she left Mr Jackson on 1 November 2015.
He told prosecutor Ashley Edwards QC that a friend of his had previously given him keys to his flat at 73 William Phillips Drive in Montrose.
Ms Edwards then asked: "Did you give them to someone else," and Mr Melville replied: "Yes, Michelle."
It is alleged that 37-year-old Ms MacKenzie's head and other body parts were put in a rucksack and suitcase and concealed in a shower cubicle at the William Phillips Drive flat.
Mr Melville told the court that on 1 November 2015, Ms Higgins asked him to help her move out of the flat she shared with Mr Jackson in the town's Market Street. Mr Jackson was in police custody at th time.
The court heard that she texted him: "That's me packed everything up," and when he arrived all her luggage was ready to go.
Mr Melville said he helped her get a taxi and she set off on her own and arrived at his house in Union Street 20 to 40 minutes later.
Ms Higgins' defence QC Mark Stewart asked Mr Melville: "Prior to that weekend, had you had a conversation with Michelle Higgins which led to you understanding she wanted to leave Mr Jackson for three weeks prior to that weekend," and he replied: "Yes, she said more than once she wanted to get away from him."
Mr Stewart then asked Mr Melville, who said he had known Ms Higgins for about six or seven months by October 2015: "In the time you had known Michelle Higgins, have you ever seen her behave in a way that was violent."
Mr Melville replied: "No."
He was then asked what he thought she would do if she encountered violence and he said: "Curl up into a ball. She would never want to face that."
The court heard that Mr Melville and Ms Higgins had previously been arrested in Aberdeen on 6 October, 2015.
He said they had gone there to buy heroin which was cheaper than in Montrose.
Mr Jackson, and Ms Higgins, are accused of murdering Ms MacKenzie by repeatedly striking her on the head, neck and body with a hammer or similar instrument at 40a Market Street, Montrose, on 27 October last year.
They are also accused of attempting to defeat the ends of justice by dismembering her body using a saw, knives and a screwdriver and wrapping parts of her body in bin liners and bags and hiding them in bins at 40 Market Street, 73 William Phillips Drive and two other sites in Montrose between 27 October and 4 November, 2015.
The trial before judge Lady Rae continues.