Stirling City Deal hailed as 'once in a generation opportunity'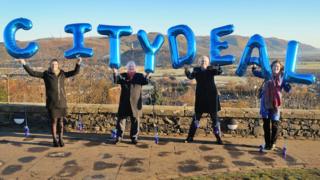 Stirling Council has welcomed the announcement of a City Deal for the area as a "once in a generation opportunity."
Chancellor Philip Hammond confirmed in his Autumn Statement that talks would begin on Stirling's City Deal, which also includes Clackmannanshire.
The deals give areas greater powers to help support economic growth, create jobs or invest in local projects.
The £250m Aberdeen City Region Deal was signed on Monday.
The Labour leader of Stirling Council, Johanna Boyd said Mr Hammond's announcement was "fantastic news."
She said: "Today's decision will be transformational for Stirling and its surrounding areas but, just as importantly, it endorses the ambition that Stirling Council and its many partners have for the area, and I am grateful to the UK government for recognising and enabling that.
"Our ambitions also go way beyond infrastructure to focus on improving the prospects and quality of life for all our people, through developments in skills and employability, social innovation, housing, transport and energy."
'Dynamic destination'
Work on the bid began last year.
Its key projects include a Digital District, plans to enhance the River Forth for leisure and tourism, a new civic and harbour quarter, and a proposed city park.
Stirling SNP MP Steven Paterson said: ''It is essential to encourage the kind of growth and jobs that we need to help the local Stirling economy in the face of the huge uncertainty created by Brexit.
''I look forward to looking at the details of this announcement and working together with all agencies and partners involved to create the environment where we can make this the success story that Stirling deserves.''
Clackmannanshire Council leader Bobby McGill said: "We are delighted that we can now move ahead with our ambitions for the region.
"We are in an excellent position to drive this forward and deliver real change together with our people and communities."
Stirling SNP MSP Bruce Crawford said: "There is now the capacity to significantly improve the opportunities that the local area has to offer.
"By investing in making Stirling the digital hub of Scotland and developing our local assets, we can send out a message that Stirling is very much open for business."
The chancellor said in his Autumn Statement that a City Deal for Edinburgh would be agreed, and that proposals from the "Tay Cities" of Perth and Dundee would be considered.