Summer start for Sistema Scotland's Dundee children's orchestra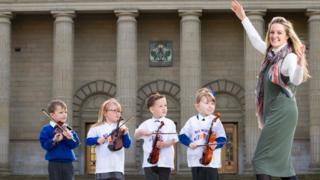 Sistema Scotland plans to have its Big Noise music education programme running in Dundee by August next year.
It is the fourth Big Noise orchestra to be set up by the Scottish charity and will be based in the Douglas area of the city.
Claypotts Castle and St Pius primaries have been chosen for the project.
The programme helps children by using music and the experience of being part of an orchestra.
There are already Big Noise projects in Raploch in Stirling, Govanhill in Glasgow and Torry in Aberdeen.
Campaign group Optimistic Sound was formed in 2013 with the aim of bringing a Big Noise orchestra to Dundee.
Councillors will be told on Monday that it is hoped that all P1 to P3 pupils at the two Dundee schools will be involved in the programme.
'Very warm welcome'
A formal partnership project was signed in October by Dundee City Council, Optimistic Sound and Sistema Scotland.
A report to the council's children and families service committee will outline how Sistema Scotland will begin work with the schools and community to develop an operational model.
Sistema Scotland chief executive, Nicola Killean said: "The community in Douglas have given us a very warm welcome.
"We are very close to finding out the location of our new home in the community, which is a very exciting time for us.
"We are now beginning the detailed work with the head teachers on how best to introduce the programme into the two schools and to communicate with families to keep them up to date on plans."
Optimistic Sound will contribute 75% of the cash funding for the project over its first five years, with Sistema contributing the remainder.