Death sentence dog owner faces curfew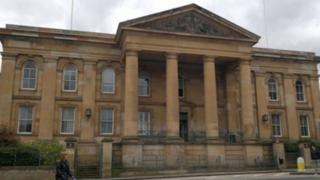 A man whose dog was destroyed after it attacked a woman in front of her four-year-old son will be sentenced in December.
Christopher Doig's Staffordshire Bull Terrier, Butch, bit neighbour Sheila Brand at her Dundee home.
The dog bit Miss Brand's hand, leaving her with a damaged tendon, after she tried to stop the animal attacking her golden retriever.
Police said Doig displayed a "couldn't care less attitude" towards the attack.
He told police officers that the dog "goes for everything."
Sheriff Alastair Brown ordered a restriction of liberty order assessment and deferred sentence until 20 December.
Sheriff Brown, who ordered the destruction of the dog in October, told Dundee Sheriff Court: "I understand that with this breed of dog the belligerence says more about the owner than the breed."
Depute fiscal Eilidh Robertson previously told the court that Miss Brand was left with a visible scar on her hand.
Miss Robertson said: "Miss Brand was off work for three weeks after the incident and when she returned her duties had to be altered as she could not do any heavy lifting.
"She states that her son is now afraid of dogs after witnessing the incident."
Miss Robertson said witnesses had come forward following the attack to report previous incidents where Butch had attacked other dogs over a period of about six years.
Doig, 41, of Dundee, admitted committing an offence under the Dangerous Dogs Act in May.