Beach Boys bring good vibrations to Montrose Music Festival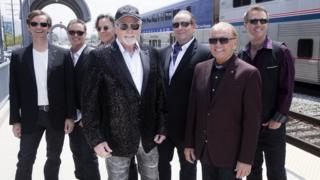 The Beach Boys have been announced as the closing act at next year's Montrose Music Festival.
The legendary 1960s band, led by co-founding member Mike Love, will play the festival on Sunday 28 May.
Previous headliners at the East Links festival, which celebrates its 10th anniversary in 2017, include Status Quo and Bryan Adams.
Bruce Johnston, who joined the band in 1965, is also part of the current line-up.
Mike Love, said: "It's great that 50 years plus we're still in a position to be touring and sharing our music with fans around the world.
"We're really looking forward to performing outdoors in Montrose, and being part of this popular festival.
"It's going to be a great night."
Festival chairman, David Paton said: "MoFest thrives on attracting big names and legendary musicians to Angus and, this year is no different.
"We're delighted that The Beach Boys are joining us for a special Sunday night show to bring our tenth annual live music festival to a close.
"The Beach Boys are renowned as one of the biggest selling bands of all time, and we just can't believe that they're joining us for MoFest 2017."
Tickets for the show go on sale on Friday.