Dam plunge dog in animal survival competition final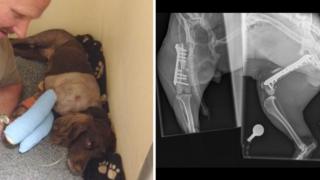 A Cocker Spaniel seriously injured after plunging 60ft down a Highlands dam has reached the final of an animal survival competition.
Two-year-old Darcy sustained a shattered femur, fractures to her legs and pelvis and internal bleeding after falling at Glascarnoch Dam in July.
Darcy, from Kellas near Dundee, is the only Scottish finalist in the PDSA Pet Survivor Awards 2016.
She is expected to make a full recovery after months of rehabilitation.
Darcy faces competition from five English finalists, including Arthur, a cat from Suffolk which dragged itself home after being caught in an illegal animal trap.
Darcy was being walked by owners Wendy and Gordon Lyon when she suddenly jumped over a 5ft wall and tumbled down the dam's concrete slipway.
Mrs Lyon said: "We have no idea why she suddenly decided to jump.
"We heard her 'scream' and then silence. We expected the worst and ran to look over the wall.
"Incredibly, she survived the fall and was looking up at us. We could see she was badly injured."
Darcy was rescued by the fire service, but was slipping in and out of consciousness and hypothermia was setting in.
After emergency surgery to stop internal bleeding and remove her damaged spleen, Darcy was transferred to Parkside Veterinary Group in Dundee.
Orthopaedic vet Stuart Ashworth said: "At first we were worried we may not be able to save Darcy's back leg.
"Her femur was shattered into five sections and her hip was also fractured, all complicated by the fact this was an open wound, which increased the risk of infection.
"But we could see that Darcy was a little dog with immense determination so we knew we had to try everything we could."
Darcy had two further operations as well as hydrotherapy, physiotherapy and acupuncture.
Mr Ashworth said she was a "model patient" and an "incredibly brave, sweet-natured dog".
A celebrity judging panel, which included former EastEnders actress Pam St Clement, helped to select the finalists.
The winner will be decided by a public vote via the charity's website.