£350,000 RRS Discovery repair work under way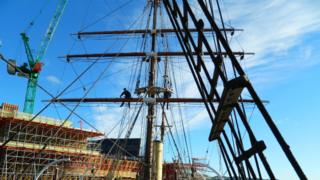 A nine-month £350,000 repair programme has been launched on RRS Discovery, Captain Robert Falcon Scott's expedition ship.
The ship's masts are being taken down to clean and repair rigging after a survey in 2012 revealed deterioration.
RRS Discovery has been based at Discovery Point in Dundee, the city where it was built, since 1986.
Dundee Heritage Trust, which owns the ship, has launched a crowdfunding campaign to raise an initial £40,000.
The ship is closed to the public for three weeks while the work is carried out.
Maritime consultant John Watson, who helped return RRS Discovery to Dundee, is overseeing the project.
He said: "It's quite a challenge, the planning is the longest part of it.
"It's three weeks down, three weeks back, but in between there's about seven months of fixing stuff up before it's put back."
Mr Watson said it was a "fascinating" project to be part of.
He said: "She was one of the last wooden three-masted sailing ships to be built in Britain and she's the only example of that type to survive."
The work will be carried out by Gloucester-based T. Neilsen & Company, which specialises in repairing, restoring and building traditional ships.
Mark Munsie, operations director with Dundee Heritage Trust, said: "As a small independent charity this project is a major cost for Dundee Heritage Trust, and cannot be covered by our existing maintenance budgets.
"That's why we're running this crowdfunding campaign, which we hope will help secure RRS Discovery for future generations."