Dundee man in final to find voice of BT speaking clock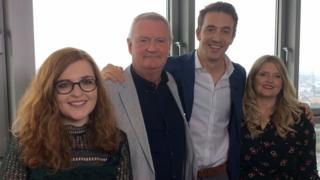 A retired Dundee civil servant has reached the final of a competition to find the new voice of the BT speaking clock.
Former part-time radio presenter Alan Steadman, 69, is one of three finalists in the contest, which marks the clock's 80th anniversary.
The winner will be announced on BBC's The One Show on Wednesday evening.
Mr Steadman entered the competition "at the eleventh hour" after a friend encouraged him to apply.
The other finalists are Crea Barton, a 20-year-old student from Bangor in County Down, and Verity Giles, a 37-year-old business manager from Bridgend.
Mr Steadman presented a weekly local radio jazz programme for 33 years until January this year.
Only his 93-year-old mother knew he had made it to the final of the competition.
Sworn to secrecy
Mr Steadman had to miss giving his granddaughter her weekly piano lesson to take part in filming The One Show's final auditions and was not able to tell her the reason until the finalists were announced.
All three finalists recorded full versions of the speaking clock script at a recording studio in the BT Tower in London.
The winner will be only the fifth person to give the time "at the third stroke" when people dial 123.
Sara Mendes da Costa has been the voice of the speaking clock since winning the last competition in 2007.
About 12 million calls a year are still made to the speaking clock, which was launched on 24 July, 1936.
BT has donated 10p to the BBC's Children in Need 2016 from each call from the start of the competition in August until tonight's announcement.