HIV positive woman who jabbed boy with needle jailed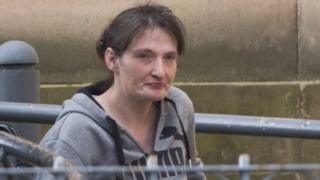 An HIV positive woman who jabbed a 12-year-old boy with a needle filled with infected bodily fluids has been jailed for 16 months.
Jacqueline O'Neil pricked the youngster after he flushed a foil wrap containing heroin down her toilet.
The boy had turned up at the 32-year-old's Dundee home with one of her relatives.
O' Neil maintained she had not meant to harm the boy, who suffered no long-term ill-effects.
The court had earlier heard the boy describe how he discovered O'Neil clearly under the influence of drugs and surrounded by drug paraphernalia in her living room with a syringe stuck in her leg.
Giving evidence through a CCTV link, the boy said he had flushed the foil wrap down the toilet.
He said: "She tried to slap it out of my hand.
"There was a needle sitting on a pillowcase and when I came back in she started waving it at me.
"It hit me on the hand."
Assaulted in street
The boy said it had gone in so deep he had to physically extract it himself before leaving.
O'Neil claimed that she had been trying to protect the boy when he was stuck by the needle.
The court was told that the boy had suffered no ill-effects as a result of the incident and had not become infected.
O'Neil admitted culpable and reckless conduct and a further charge of assault.
Defence solicitor Gary McIlravey said: "The public perception of her is she is some kind of monster.
"She was assaulted in the street by two women - she is easily recognisable.
"The stigma of this offence will stay with her for some considerable time."
Sheriff Lorna Drummond QC told O'Neil: "You put the boy's health at risk by your reckless conduct.
"You disputed how he came to have this puncture wound, but I had no difficulty believing him over you."