Falkirk Wheel set for annual 'MoT'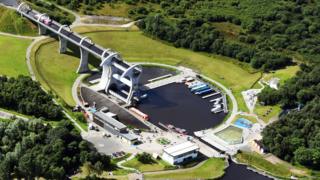 Boat trips on the Falkirk Wheel will be suspended for a month while annual inspections and maintenance are carried out on the popular visitor attraction.
The work, which requires the Wheel being drained of water, will take place from 10 November to 9 December.
Scottish Canals' engineering teams will inspect mechanical and electrical systems, and surrounding infrastructure.
The basin and aqueduct will also be drained as part of the programme.
The attraction's visitor centre, cafe, gift shop and outdoor play parks will remain open throughout the maintenance work.
Paul Berry, Scottish Canals' project manager, said: "The Falkirk Wheel is an incredible and unique feat of engineering as well as one of Scotland's top tourism attractions and it is essential we carry out regular maintenance to ensure the Wheel continues to operate safely."