Teenager in Halloween fairy costume threatened with knife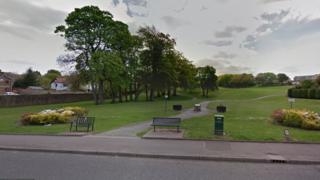 Police in Forth Valley are hunting a man who threatened a 15-year-old girl in a Halloween outfit with a knife.
The teenager, who was wearing a Tinker Bell fairy costume at the time, was approached in Main Street, Brightons, next to Lawrie Park on Monday.
Officers said the weapon was a wooden handle knife with a blade approximately four to five inches long.
The man put the knife in his pocket when a red car approached and stopped.
Police said he walked off in the direction of Station Road following the incident, which happened between 17:00 and 18:00.
Zombie face paint
The suspect was described as in his late 20s or early 30s, about 5ft 8in tall, and possibly had "gingery" hair.
He was wearing a yellow top with a black jacket, and a red skip cap.
The victim was in fancy dress at the time, wearing a Tinker Bell fairy costume and zombie face paint.
The car which stopped was described as a five-door vehicle with a male passenger aged between 20 and 30-years-old.