Hepatitis C man spat in police officer's mouth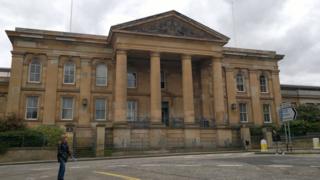 A Hepatitis C sufferer spat into the mouth of a custody sergeant three months after his release from prison for biting another police officer, a court heard.
Steven Dunn was jailed for 38 months for the latest attack, which he carried out while still on licence.
Dunn, 40, claimed he had forgotten he had the disease.
He had been jailed last November for chewing through a leg restraint and biting an officer on the shin.
Dundee Sheriff Court was told that Dunn assaulted two of his friends before being thrown out of his Arbroath home by his girlfriend.
Police found Dunn unstable on his feet in the close of the building.
He was arrested and handcuffed, but tried to headbutt an officer and kicked him as he was put in a van.
Dunn was asked by a sergeant at Arbroath police station if he had any transferable diseases, at which point he spat at the officer.
Appalling offences
He then struggled with two other officers, spat at them, attempted to bite them and lashed out with his arms and legs.
Depute fiscal Eilidh Robertson told the court that some of the spit landed in the mouth of one officer, while another chipped a tooth during the incident.
Miss Robertson said tests revealed the officer had not contracted Hepatitis C as a result of the attack.
Dunn, a prisoner at HMP Perth, admitted committing assaults in Arbroath on 10 August.
Defence solicitor John Boyle said: "These offences are appalling and there is very little that can be said to mitigate them.
"He has no recollection at all of these incidents.
"His position is he had forgotten he had Hepatitis C.
"That may seem ridiculous but given the amount he drinks there may be some truth to it."