Olympian shares medal success at school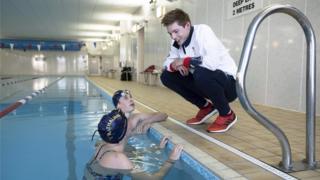 Olympic double silver medallist Duncan Scott has returned to his former school in Perthshire to share his experiences of competing in Rio 2016.
Scott won silver medals for Team GB in the 4x100m and 4x200m freestyle swimming events in August.
The 19-year-old, who left Strathallan in June 2015, was reunited with his school swimming coach Elaine Johnston during the visit.
The swimmer also took part in a Q&A session with pupils.
Questions ranged from his experiences in the Olympic Village to who was his favourite teacher when he was at Riley, the school's junior house.
Scott said: "The teachers were brilliant while I was here, helping me to balance my school work and going to competitions.
"Nothing was ever impossible here."
Ms Johnston said she was "delighted" to welcome the Olympian back to school.
She said: "Duncan was just 11 when he first arrived here and, from the minute he stepped into the pool, I knew he'd go far.
"It has been wonderful to see him perform so well on the greatest stage of all - and he's still only 19 years old, so his career is only just beginning.
"It has been fantastic for pupils to see Duncan again and hear about his Olympic experiences."