Crowdfunding launch for RRS Discovery restoration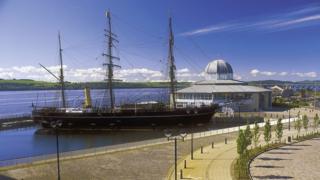 A £40,000 crowdfunding campaign has been launched to help restore RRS Discovery, Captain Robert Falcon Scott's expedition ship.
The ship, which is docked at Discovery Point in Dundee, will enter a nine-month repair programme from November.
The work involves taking down the ship's masts to clean and repair its rigging.
Dundee Heritage Trust, which owns the ship, wants to raise £40,000 towards the work, which will cost £350,000.
Maritime consultant John Watson, who helped return RRS Discovery to Dundee in 1986, has been appointed to oversee the rigging project.
The work will be carried out by Gloucester-based T. Neilsen & Company, which specialises in repairing, restoring and building traditional ships.
The trust said RRS Discovery will be closed for three weeks in November while the masts are taken down.
Paul Jennings, executive director for Dundee Heritage Trust, said: "Regular and detailed upkeep of this historic vessel is vital and as a charitable trust we rely on the generosity of the public.
"That's why we're asking for donations, however big or small, towards the rigging project.
"It's only through proper maintenance and restoration that we can ensure she will be here for Dundonians and their families to enjoy for many more years to come."