'Vulnerable' girl attacked in common close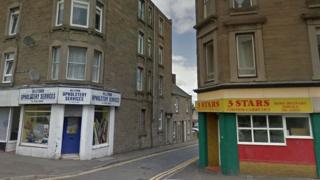 Police in Dundee are appealing for information a week after a "vulnerable" girl was assaulted by a man in a common close.
The attack took place in Strathmartine Road at about 18:30 on Tuesday 18 October.
It is understood the man was in the company of the victim and another child before the incident took place.
A Tayside Division spokeswoman said the girl was uninjured as a result of the assault.
The man was described as aged between 30 and 40, about 6 ft tall and of slim build.
He was wearing a black woollen hat, a black baggy thigh-length jacket, a light-coloured hooded sweatshirt, grey baggy jogging bottoms and dark-coloured trainers.
Det Con Alan Shepherd said: "We are appealing for information to assist us in tracing the man responsible for assaulting this vulnerable young girl.
"They had been walking together in Moncur Crescent, Mains Road and Mid Road between 18:15 and 18:30.
"The man was last seen in Mid Road running towards Mains Road at about 18:35."