Royal Family threat driver Gary Bell is admonished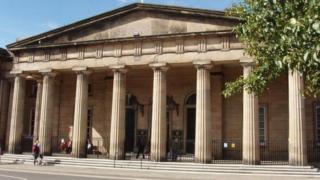 A man who brandished a golf club at police and made threats against the Royal Family has been admonished.
Gary Bell, 41, drove through several villages at more than twice the speed limit before brandishing the club as police apprehended him.
Bell was banned from driving for two years at Perth Sheriff Court.
Sheriff Richard MacFarlane said a medical report found that the months spent awaiting sentence had had a negative impact on Bell's health.
He told Bell: "Whilst I regard this as a very serious piece of dangerous driving I will admonish you."
The sheriff had previously rejected a claim by Bell, of Auchtermuchty, that he was insane at the time of the incident.
The court was told that after being overpowered by officers following the 15-mile pursuit, Bell complained of chest pains and was taken to hospital.
PC Kevin Miller told a trial: "He was making a host of irrational statements.
"There were threats against members of the Royal Family."
The officer and his colleague had initially set up a speed trap, when they spotted Bell racing past.
'Evasive action'
PC Miller said: "He clearly failed to stop. We were exceeding the speed limit and were struggling to catch up.
"He was driving far too fast for the conditions. He was bullying his way through the traffic.
"He was causing other vehicles to take evasive action.
"If there had been other vehicles it would have been a head-on collision."
After Bell stopped his car outside his house, the officer leaned into the vehicle to remove the keys from the ignition.
PC Miller said: "He leaned into the passenger footwell and reached for a short golf club. It has a shortened shaft.
"It is my opinion it has been adapted as a weapon. I can't see any other reason you would do that to a golf club.
"I leaned inside the car and started to struggle with him to prevent him using the club as a weapon."
Bell was found guilty of driving dangerously on various roads on 11 August last year and failing to stop for police officers.
Sheriff MacFarlane also found him guilty of resisting arrest, brandishing a golf club at officers and possessing an offensive weapon.