Sex offender caught with child abuse images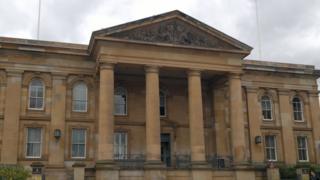 A man jailed for sexually assaulting a five-year-old girl was caught with child abuse images at a social work meeting weeks after his release, a court heard.
Andrew McLeod was jailed in January 2015 for the attack and was granted automatic release after serving a year.
Police examining McLeod's phone at the meeting discovered indecent material.
He must now serve the rest of his original sentence and will not be released until at least January 2019.
Depute fiscal Saima Rasheed told Dundee Sheriff Court that the offence came to light when McLeod told social workers he had been using a social media application on his phone to keep in touch with friends in America.
That prompted public protection officials to impose an extra condition on McLeod, requiring him to hand over his phone for inspection by police on demand.
'Indecent images'
Miss Rasheed said: "On 31 March he attended at the criminal justice social work office for a pre-arranged meeting and signed to say he understood the new condition.
"Police asked to examine his phone and he handed it over.
"A cursory examination in his presence revealed indecent images of a child.
"He said he had been coming to show them the images."
Miss Rasheed told the court that McLeod said he had owned the phone prior to his prison sentence and it had been returned to him by the police upon his release.
She said McLeod had been sent a number of files apparently of adult content and downloaded them.
No explanation
She said: "One video of a young child being abused had been viewed in the early hours of that morning and he could not account for that.
"There were 83 still images and three videos on the phone."
McLeod, 39, a prison at HMP Perth, admitted a charge of downloading indecent images of children on 31 March 31 this year at Friarfield House, Dundee.
Defence solicitor Paul Parker Smith said: "The number of images on the phone is fairly low but given he was on licence for a sexual offence it will be regarded as serious by the court."
Sheriff Tom Hughes deferred sentence on the new offence until November for social work reports.