Protesters claim victory after 'white power' concert cancelled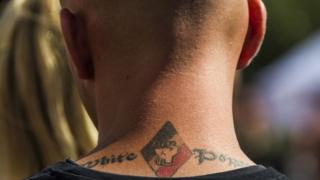 A Scottish concert by American "white power" band Bound For Glory has been cancelled, an anti-racism group has claimed.
The band were reportedly due to perform in Edinburgh at an undisclosed venue on 22 October.
Hope Not Hate said "the largest white power concert ever to take place in Scotland" had been cancelled.
The campaigners said that they had proof that the concert had been moved to an unknown venue in Falkirk.
It said 500 tickets had been sold with "hardcore neo-Nazis" expected to attend from across Europe.
Tickets for the show, which would have been the band's first in the UK, had been advertised for sale since January.
Scotland's Justice Secretary Michael Matheson said on Sunday that he would write to Home Secretary Amber Rudd recommending that she refuses the entry of the band to the UK.
Mr Matheson said: "There is no place for hatred of this kind in Scotland."
Hope Not Hate said in a statement on its website: "The Nazi gig in Falkirk has been cancelled. We have won."
A Police Scotland spokeswoman said: "We will not tolerate any group that incites violence or hatred in our communities across Scotland.
"We are working with a range of organisations across the country to intervene and where possible, prevent any event that promotes extremist or racist views."