Island setting for multimedia performance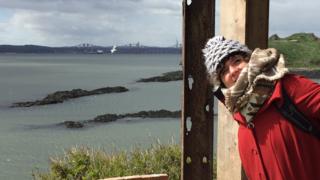 A Dundee student will take over a Firth of Forth island at the weekend as part of a multi-media performance.
Seventy guests will take a ferry to Inchcolm, four miles east of the Forth Bridge, for the event, which is designed by Mona Bozdog from Abertay University.
Miss Bozdog and a team of artists will combine Bafta-nominated video game Dear Esther with a theatrical performance.
Sunday's event will end with two songs from the game's soundtrack.
Part of the two-hour performance will take place in the 12th Century Inchcolm Abbey.
Miss Bozdog said her experience as a theatre maker influenced her view of video games and led her to develop Inchcolm Project over the previous four months.
'Evocative and atmospheric'
She said: "My research is focused on making the connections between theatre and video games apparent through practice.
"Alongside a team of tremendously talented artists and volunteers, we have been working to design a world that is evocative and atmospheric, trying to build bridges between the game world and the world of Inchcolm."
Dr Dayna Galloway of Abertay University's school of arts, media and computer games said the project was a "thoughtful and timely work".
He said: "As video games and the performing arts are intrinsically linked by the notion of play, we are excited to see how the audience or indeed 'players' respond to the project, and the secrets of the story world that await discovery on Inchcolm Island."