Castly Huntly absconders caught after M80 crash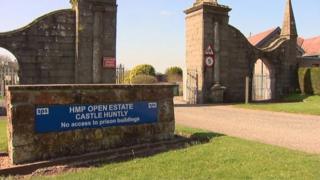 A pair of prison breakers were caught when their unsuspecting getaway driver crashed.
Kieran Kiely and Danny Hussain walked out of Castle Huntly jail on 13 July with the intention of going on the run.
However, Perth Sheriff Court heard that a friend who picked them up was unaware of their plan and crashed on the M80 when she overheard them discussing it.
Police later posted a nationwide alert for the pair after it emerged Kiely had been a passenger in the car.
The court heard that 23-year-old Kiely decided to leave Castle Huntly, near Dundee, after being told he would not be getting home leave because he had split from his girlfriend.
He began a conversation with fellow inmate Hussian, 24, and the pair then got into a waiting car, being driven by a friend.
'Home leave'
After overhearing that they intended to travel to get Hussian's passport, she asked what was going on.
Hussain told her: "What do you think is going on? We're on the run." The driver then lost concentration and slammed into the rear of another car on the M80.
It was only as a result of the accident that it came to light that the duo had escaped from Castle Huntly and a nationwide alert was put out by police in a bid to trace them.
Fiscal depute Carol Whyte said: "At 3.33 pm the police were advised of a road traffic collision on the southbound M80 near junction seven. It was established Kieran Kiely may have been a passenger in one of the vehicles involved.
"The accused should have been within Castle Huntly," Mrs Whyte said Hussain's female friend had picked up the duo outside the jail, believing them both to have been granted home leave.
"The accused Kiely told her 'we are just heading to Glasgow to grab Danny's passport'," said Mrs Whyte.
Kiely, from Clydebank - who was serving a 30-month sentence for armed robbery - was jailed for a further 12 months.
Hussian, who admitted the charge last month and who had been serving five years for assault, was ordered to serve a further eight months.