Sydney Wallace fined for driving wrong way along A90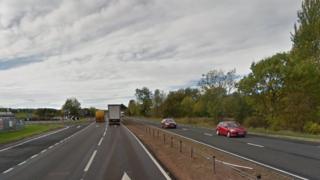 An elderly motorist caused chaos on a busy dual carriageway by driving in the wrong direction as he made his way home from a wedding in the dark.
Sydney Wallace, 83, drove into the path of oncoming vehicles on the main road between Perth and Dundee on 19 March.
Perth Sheriff Court heard he did not like driving in the dark and he became confused as he entered the A90.
The retired farmer admitted dangerous driving near Errol. He was banned from driving for two years and fined £1,000.
He caused several cars to swerve to avoid him and eventually hit one.
The incident only came to an end when police caught up with the pensioner and managed to pull him over to the side of the road.
Surrendered licence
Sheriff Lindsay Foulis told Wallace, of Aberfeldy, the he had created the "potential for horrific consequences".
The court was heard that motorists tried to stop the pensioner by flashing their lights at his vehicle and sounding their horns but he carried on regardless.
Solicitor John McLaughlin, defending, told the court: "He was at a wedding with his wife, who is 86. He doesn't like driving in the dark so it was anticipated he would leave at 15:00 or 16:00.
"As it was, due to various elements of the wedding running on, it was 19:00 before he left. He had not been to this area before.
"When he reached the flyover he thought he was going in the right direction. As soon as he saw headlights he panicked. He thought there would be a gap in the central reservation but there wasn't."
The court was told that Wallace had voluntarily surrendered his driving licence in the wake of the incident and had no intention of returning to the road.