Beano launches first digital stream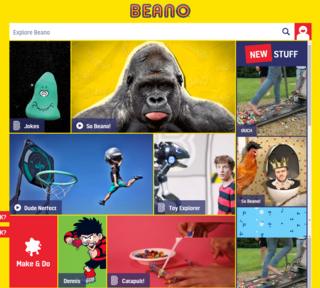 The first official digital stream inspired by the antics of characters from the Beano has been created.
Dubbed the Ultimate Feed of Awesome, the site features original video and jokes as well as information about favourites such as Dennis the Menace and Minnie the Minx.
The stream coincides with a redesign for the comic, first published in 1938.
Those behind the project said it would have a "rebellious, irreverent Beano spirit" building on the comic's roots.
Peak circulation
The head of Beano Studios, Emma Scott, said: "We've spent the last three months blue sky thinking in a thought shower, touching base, singing from the same hymn sheet and pushing the envelope… until we realised that was boring nonsense, and we just needed really funny stuff."
The Beano features Dennis and his dog Gnasher, the Bash Street Kids and Billy Whizz, and back in the 1950s had a peak circulation of more than 1.9 million, although it currently sells about 31,000 copies per week.
As well as the new website, the feed will also be available on Apple and Android apps, and across YouTube and PopJam.