Brother of murdered aid worker's message of religious tolerance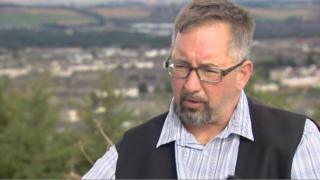 The brother of a Scottish aid worker murdered in Syria says military action alone will not defeat so-called Islamic State.
Mike Haines, whose brother David was captured in Syria in 2013, was speaking ahead of an event in Dundee in support of refugees.
Mr Haines has been campaigning for religious tolerance since his brother's murder two years ago.
He said: "When he was killed, my gut reaction was initially one of hatred.
"I wanted to go out there and kill and I realised their actions are all about causing hatred.
"So if I committed a hate act, first of all in my brother's name, my brother would haunt me for the rest of my days if I did that."
'Win for humanity'
Mr Haines that every time he gave a speech he would be approached by "at least one or two people" who said that had made them think.
He said: "That has got to be a win for humanity.
"I don't think that military action is the only answer.
"I think reaching out the hand of friendship to a culture that you don't know, a neighbour from a different country over the fence and just saying 'hello, how you doing' and just asking questions.
"If you ask a question, you get an answer back and that's a two-way flow of communication.
"And by doing this, we carry on that communication and we grow these bonds that are stronger than anything against the hatred."
Mr Haines will join musicians and singers at the Light up the Law procession on Wednesday.
The event, which is in its second year, will see people carry torches and candles from the base of the hill up to its war memorial.