View star Kyle Falconer's air rage case continued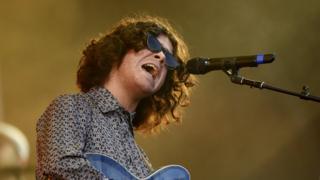 An air rage court case against The View singer Kyle Falconer has been adjourned again until next month.
The Dundee musician is accused of shouting and swearing at passengers and making a homophobic remark to a cabin crew member.
The incident is alleged to have happened on board a Jet2 flight between Reus Airport in Spain and Glasgow International Airport in June.
Mr Falconer, 29, was not present at the hearing at Paisley Sheriff Court.
The case was continued without plea for further investigation until 12 October.
A solicitor told the court that it had to be established which country's air space the plane was in at the exact time of the alleged offences.
Mr Falconer faces two charges of alleged threatening and abusive behaviour.
He is accused of behaving "in a threatening or abusive manner which was likely to cause a reasonable person to suffer fear or alarm" by shouting, swearing and acting aggressively towards other passengers "whilst in possession of two bottles".
The singer is also accused of uttering a homophobic remark on the flight.