Kelpies win international canals award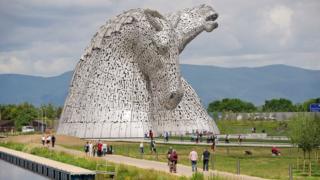 The giant Kelpies sculptures near Falkirk have won a prize at the inaugural World Canals Awards.
The sculptures picked up the Pioneer Award at a ceremony during the World Canals Conference in Inverness.
Attractions in Italy, Ireland and the US collected the three other awards in the ceremony.
Organisers said the awards celebrated "engaging, innovative and inspirational projects taking place on and along the world's waterways".
The awards attracted submissions from more than a dozen countries.
Steve Dunlop, chief executive of Scottish Canals, said: "We received some fantastic submissions from all over the globe and it's clear to see that there are a huge number of innovative projects taking place on canals worldwide."
The Kelpies, which were designed by sculptor Andy Scott, have won a number of design awards, and were named "Scotland's national treasure" by the National Lottery.