The Courier newspaper celebrates 200th birthday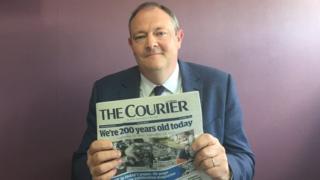 The Courier newspaper has celebrated its 200th birthday with the launch of an archive exhibition.
The Dundee-based publication's first edition in 20 September, 1816 was eight-pages long and cost 7 pence, with an estimated print run of between one and three hundred copies.
The Courier, which is published by DC Thomson, won UK Regional Newspaper of the Year in April.
Editor Richard Neville said it strived to be "fair, honest and inquiring."
Artefacts from the 200-year story of the newspaper will be displayed at the AK Bell Library in Perth from this weekend.
The newspaper currently publishes editions covering Dundee, Angus and the Mearns, Perth and Kinross, and Fife.
Mr Neville said: "What has remained constant throughout the last 200 years is the paper's role as a seeker of information and news from its communities, and it is they who have shaped the content of the Courier.
"We still publish four editions a day in very distinct areas, one of the few regional papers in Britain that do that.
"We like to think it's the readers who direct what we write about every day.
"I think if we were to ignore that we would do so at our peril.
"We take our local community place very seriously indeed."
Anniversary edition
The Courier moved from a broadsheet to compact format in January 2012 and featured classified adverts on its front page until 1992.
It currently sells about 45,000 copies per day and sold 140,000 in its 1970s heyday.
A 48-page supplement was included in the anniversary edition detailing the history of the newspaper.