Cyclist injured in Stirlingshire hit-and-run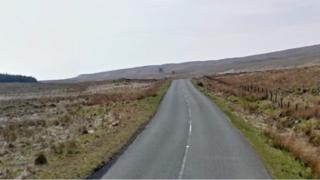 Police are searching for the driver of a car involved in a hit-and-run after a cyclist was injured in Stirlingshire.
The incident happened on the B822 Crow Road at about 14:40 on Friday.
Police said a 35-year-old man was knocked off his bike by a car travelling towards Fintry from Lennoxtown, which then failed to stop.
The man was left lying on the ground with leg injuries and was taken to Forth Valley Royal Hospital for treatment.
PC Gavin Nicoll said: "The driver has shown no regard or concern for the cyclist's health and wellbeing following this collision and continued on his journey without stopping.
"We are eager to hear from anyone who was on the B822 on Friday afternoon and witnessed the collision, or who saw the offending vehicle and can help us locate it.
"In particular, we would like to hear from motorists with dashboard cameras, or cyclists with GoPro devices, which may have recorded the incident, and allow us to progress this investigation.
"The vehicle involved in the collision is likely to have sustained some exterior damage and so anyone who notices some new dents or marks on the car of a family member, friend or neighbour, who is likely to have driven along the B822, should also get in touch."