Dundee Law to light up in support of refugees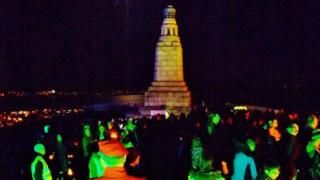 The brother of a British aid worker murdered by Islamic State (IS) militants is to speak at a Dundee Law event in support of refugees.
The Light Up The Law procession, which is in its second year, will see people carry torches and candles from the base of the hill up to its war memorial.
Mike Haines, whose brother David was captured in Syria in 2013, will join musicians and singers at the event.
It has been organised by Tayside Action For Refugees co-ordinator Jayne Kelly.
About 300 people, led by a lone piper, attended last year's event.
Ms Kelly said: "I hoped Light Up The Law would only need to be a one-off event, but sadly the crisis has continued.
"Because of this, we will once again draw focus to lives lost in the refugee crisis, as well as all unnecessary loss of life in acts of war and terror across the globe.
"We hope this event can show that Dundee is not only the most integrated, welcoming city in the UK but that its citizens are the most compassionate and understanding."
The event will take place on 21 September at 20:00.