Stirling Orchestra reaches grand final of BBC competition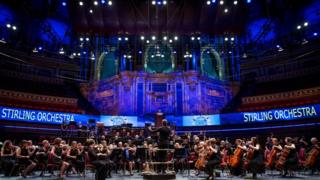 Stirling Orchestra has reached the grand final of a BBC competition aimed at finding the UK's top amateur orchestra.
The orchestra will face the North Devon Sinfonia at London's Royal Albert Hall in the final of All Together Now: The Great Orchestra Challenge.
The winners of the four-part series will play at the BBC's Proms in the Park.
Stirling was the only orchestra from Scotland to be selected for the series.
Conductor Stephen Broad said the competition had been "huge fun".
'Brilliant opportunity'
He said: "I am full of admiration at the sheer hard work that each and every member of the orchestra has put in to make the most of this brilliant opportunity.
"To hear all that work come alive in one of the world's most famous concert halls will be unforgettable."
The series has seen the orchestra perform Dvorak at the BBC's Maida Vale Studios, accompany soprano Jennifer Davis of the Royal Opera House in Puccini's One Fine Day, and play at Dunblane Cathedral with Peter Maxwell Davies's An Orkney Wedding with Sunrise.
Stirling Orchestra, which was formed in 1983, draws amateur musicians from across central Scotland and rehearses every week at the city's Wallace High School.
Cellist Gemma McAusland said: "As an amateur musician, playing in the Royal Albert Hall is something of a dream which you never expect to come true.
"I hope the series has inspired other amateurs to reinvigorate their love of music and that Stirling Orchestra's commitment and passion of playing music together shone through."
The four other orchestras featured in the series were North Devon Sinfonia, London Gay Symphony Orchestra, Slaithwaite Philharmonic Orchestra and Birmingham-based The People's Orchestra.
The show is hosted by BBC Proms presenter Katie Derham.
The orchestras were mentored by double-bassist Chi-chi Nwanoku, and conductor Paul Daniel judged the competitors.
The final of All Together Now: The Great Orchestra Challenge will be shown on BBC Two at 20:00 on Saturday.