Boy tells court about HIV scare after needle incident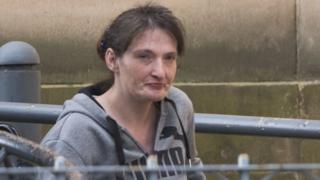 A 12-year-old boy has told a court how a needle filled with "body fluids" from an HIV positive woman became stuck in his hand.
The court heard the woman had waved the needle at him as he flushed her drug stash down the toilet.
Jacqueline O'Neil now faces a jail sentence after she "culpably and recklessly" jabbed the youngster with the uncapped needle in Dundee.
The boy, who cannot be named for legal reasons, was not infected with HIV.
Dundee Sheriff Court heard the boy had turned up at O'Neil's address with one of her relatives.
He gave evidence at a proof in mitigation hearing to establish the exact circumstances of the incident.
He told the court O'Neil was clearly under the influence of drugs and was surrounded by drug paraphernalia when he found her in the living room with a syringe stuck in her leg.
O'Neil admitted she had taken heroin but claimed the boy had "totally fabricated" the circumstances leading up to him being pricked and branded him a "liar".
Giving evidence through a CCTV link, the boy said he had taken a foil wrap containing heroin and had flushed it down the toilet.
He said: "She tried to slap it out of my hand.
"There was a needle sitting on a pillowcase and when I came back in she started waving at me.
"It hit me on the hand."
O'Neil claimed that she had been trying to protect the boy when he was stuck by the needle.
But sheriff Lorna Drummond QC ruled that her version of events was "not credible or reliable" and that the boy's "detailed, clear and straightforward" account was corroborated by the other adult witness.
The court was told the boy had suffered no long-term ill-effects as a result of the incident.
O'Neil, 32, of Byron Crescent, Dundee, pleaded guilty on indictment to a charge of culpable and reckless conduct and a further charge of assault.
The sheriff deferred sentence until later this month for social work background reports and released O'Neil on bail.