Armoured car driver avoids crash ban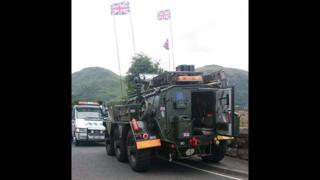 A former Territorial Army corporal who crashed an 11-tonne ex-Army armoured personnel carrier into a woman's car has avoided a driving ban.
A court heard Robert Shepherd, 68, veered onto the wrong side of the road as he peered though the hatch of his 1954 Alvis Saracen.
The vehicle struck Amanda Ryan's car, showering the 28-year-old in glass.
The mother-of-two had to be freed by firefighters and later suffered a miscarriage.
Shepherd was fined £270 and had three points added to his licence.
Miss Ryan described Sheriff Eric Brown's decision not to disqualify Shepherd from driving due to his age as "a travesty".
The sheriff was not told of her injuries or miscarriage during the case at Alloa Sheriff Court.
Overhanging foliage
Miss Ryan said: "When I saw that thing coming towards me I thought I was going to die.
"After what happened to me, not to ban him is ridiculous. It's a travesty."
The incident happened near Alva, Clackmannanshire, last August.
The court heard that Shepherd, a self-employed plumber, looked through the vehicle's hatch while a friend in the turret acted as "vehicle commander".
Overhanging foliage obscured the view of the "commander", who did not warn Shepherd about Miss Ryan's car.
Prosecutor Adrian Fraser said: "The APC encroached onto the opposing carriageway, and as a result there was a collision between both vehicles.
"The position adopted by the accused's vehicle was such that there was not room for the two vehicles to pass."
Shepherd, of Tullibody, Clackmannanshire, had been due to face trial charged with dangerous driving, but the prosecution accepted his plea of guilty to the lesser charge of careless driving.
Difficult obstacles
Defence solicitor Jim Savage said: "The way this vehicle is driven is that the driver has a restricted view through a hatch, and there was a vehicle commander, in effect, on the top.
"His role is to be the eyes of the vehicle.
"He will, as the vehicle approaches difficult obstacles, indicate if the road is clear.
"The driver did receive an indication that the bridge was clear as he approached.
"He did encroach onto the other carriageway."
The lawyer said that any disqualification would be "devastating" for Shepherd, who would have to sack his sole employee.
Imposing the fine and points, Sheriff Brown said: "You are 68 and I accept that disqualification would be very significant for some at that stage of your career.
"I also take into account the impact it would have on your employee."