Six rescued from lifts after power cut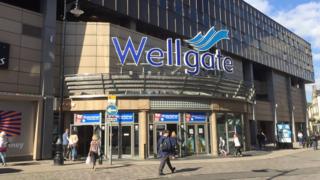 Six people have been rescued from lifts in a Dundee shopping centre after 500 city centre properties were affected by a power cut.
The power cut forced the evacuation of the Wellgate Centre shortly before 12:00.
Five adults and a child were freed by firefighters from three lifts in the shopping centre.
The power cut was caused by a fault in an underground cable near Abertay University's library.
The loss of power affected properties in the Meadowside, Union Terrace and King Street areas of the city centre.
Power was restored to the properties shortly before 13:00.
A spokesman for Scottish Hydro Electric Power Distribution said: "We would like to apologise to our customers in the centre of Dundee who were affected by the power cut earlier this morning, and assure them we did everything we could to restore their supplies as safely and as quickly as possible.