Man accused of armed robbery and abduction at Coupar Angus chip shop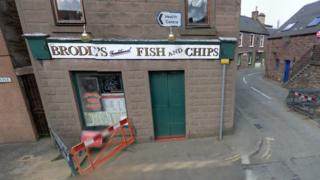 A man has appeared in court, accused of robbing a chip shop at gunpoint and abducting the owner's wife.
Nicholas McGurk is also alleged to have stolen the couple's car to make his getaway after the incident in Coupar Angus, Perthshire.
The charges relate to a robbery at Brodie's Traditional Fish and Chips on Friday night.
McGurk, from Govanhill in Glasgow, made no plea and was remanded in custody.
He is alleged to have carried out the masked raid and assaulted Yung Hing Wong and his wife, Wai Man Wong, by brandishing a firearm and knife at them and demanding money on 26 August.
McGurk allegedly threatened to kill the chip shop staff and pushed them, before binding Yung Hing Wong's hands and securing him to fittings in the shop bathroom.
Further charges
It is alleged that he instructed Wai Man Wong to lock the bathroom door, then took money from the till and struck her in her face.
He is also said to have demanded keys to a car, before stealing cash, two phones and a bag of groceries and the vehicle.
McGurk is also accused of abducting Wai Man Wong and demanding that she get into a Mercedes A140 at knifepoint.
He is also alleged to have seized her by the neck and tried to kiss her and slapped her on the face.
McGurk is also said to have driven dangerously by mounting the pavements of several streets at speed in a built-up area, and driven without a licence or insurance.
McGurk appeared in private at Perth Sheriff Court. The case against him was continued for further examination.