V&A Dundee pops up at Edinburgh International Book Festival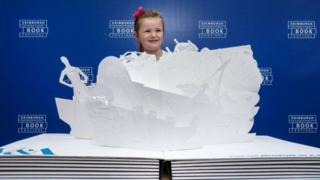 A pop-up paper version of Dundee's V&A Museum of Design has been launched at the Edinburgh International Book Festival.
The large pop-up book and smaller design kits for children both feature items of Scottish design, including the Falkirk Wheel and a traditional Orkney chair.
The book was created by designers Tessa Asquith-Lamb and Martin Baillie.
The V&A Dundee museum is due to open in 2018.
Julie Muir, young people and families producer at V&A Dundee, said: "Design is about creativity and improving the world around you, and our pop-up museum in a book is a great way to introduce children to inspiring examples of Scottish design that can help them think about their own interests and creativity.
"The pop-up museum includes beautiful paper-cut versions of everything from Dennis the Menace to catwalk fashion, showing how diverse Scottish design is and the wide range of ways design creativity can be expressed."
The museum has run community activities across Scotland since 2014.
More than 12,000 people visited its Design in Motion touring exhibition, which took the work of seven contemporary Scottish designers to 85 locations across Scotland and to the V&A in London.